AFE Program Highlights
EMERGING MARKET SYSTEMS IN AGRICULTURAL INPUT MARKETS
In Senegal, private sector agribusiness companies selling seed, fertilizer and crop protection products are transitioning from national level markets with government and donors to decentralized sales/ distribution models that sell directly to farmers. These emerging market systems are needed to create vibrant and competitive markets that offer better quality, choice, and proximity of inputs for farmers. This video highlights examples of some of these companies, their sales intermediaries, and the facilitation role that AFE has played in supporting their initiatives to develop and expand their distribution models – leading to sustainable and commercially viable impact for farmers. click here for video in French
EMERGING MARKET SYSTEMS IN ANIMAL HEALTH INPUT MARKETS
In Senegal, private sector companies selling veterinary medicines, feed, and supplements for animal health are transitioning from national level markets with government and donors to decentralized sales/ distribution models that sell directly to producers. These emerging market systems are needed to create vibrant and competitive markets that offer better quality, choice, and proximity of inputs and services for producers. This video highlights examples of some of these companies, their sales intermediaries, and the facilitation role that AFE has played in supporting their initiatives to develop and expand their rural distribution models – leading to sustainable and commercially viable impact for producers. click here for video in French
MARKET SYSTEMS DEVELOPMENT PROGRAM IN BANGLADESH
In 2015 AFE implemented a market systems development program with the support of OXFAM Bangladesh that included collaborating with and supporting the initiatives of Lead Firms with the potential to increase their competitiveness and support the development of other stakeholders in their value chains. As a facilitator, AFE did not take a direct commercial role in the value chain but instead supported the initiatives of the existing market actors to upgrade the value chain in a sustainable manner. This helped to ensure that impact and benefits will continue after the project ends. Using this approach, AFE supported the initiatives of two vegetable seed companies, one animal health input supply company, and three craft export companies resulting in impact for over 76,000 remote and underserved farmers/producers. The following video presents highlights of this program.
WORKING WITH INCLUSIVE BUSINESSES IN ZAMBIA
Inclusive businesses are those that profitably integrate low-income producers and consumers into their business operations and value chains. In so doing they make a positive contribution to the development of the company as well as the local population. During its recently completed USAID-funded program in Zambia AFE supported the initiatives of over 30 inclusive businesses to build their competiveness and to improve the products, services and support they provide to more than 20,000 low income producers. Click on the adjacent link for a 30 minute video to hear these businesses explain their initiatives and how they collaborated with AFE. For more information on inclusive businesses please click here.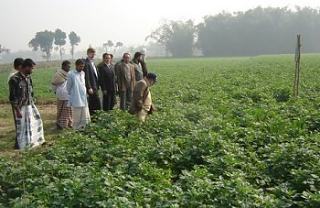 LEVERAGING THE PRIVATE SECTOR FOR SUSTAINABLE IMPACT
The AFE approach to private sector development involves leveraging the commercial relationships between private sector actors in value chains. By working with 'lead firms' that have incentives to invest in the networks of micro, small, and medium scale enterprises (MSMEs) that they buy from or sell to, AFE promotes industry competitiveness, large-scale results, and creates sustainable impact for targeted MSMEs that continues beyond the life of the development program.
AFE WORK IN PROCESSED POTATO INDUSTRY
AFE is providing support to several potato processing companies in Bangladesh, to develop, improve and expand their outgrowing, or contract farming operations. AFE began by inviting the companies to visit successful outgrowing operations in India. It then used its publication 'Facilitating the Development of Outgrowing Operations' as a strategic planning tool to help the companies to effectively plan for the development and expansion of their outgrowing operations, thereby increasing the number of potato farmers that they purchase from. AFE developed and improved the capacity of the companies to provide needed seeds, training, credit and technical support to more than 4,000 farmers. This then became a model that was further replicated in the country.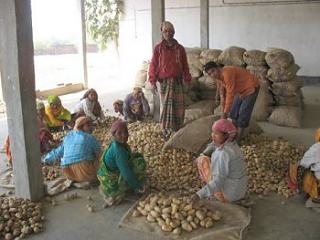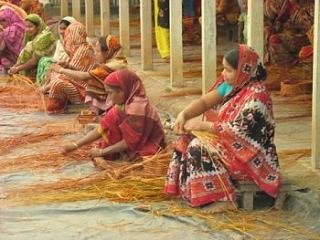 AFE WORK IN CRAFT EXPORT VALUE CHAINS
In both the Philippines and Bangladesh AFE supports the countries' major woven products export companies to develop new products, find new markets, and expand their network of rural producers in order to meet demand. Through these initiatives AFE has built the capacity of the companies to 1) increase their market share 2) develop quality management systems, and 3) expand and improve the training, raw materials, and other forms of support they provide to producers. More than 10,000 producers have been impacted to date.
DEVELOPMENT OF TOOLS AND MATERIALS TO FACILITATE PRIVATE SECTOR DEVELOPMENT
AFE has developed a wide range of tools and training materials that it uses to build the capacity of local and international development practitioners to design and implement successful private sector development programs. These include tools for 'facilitation' rather than direct provision of goods and services to MSMEs. When DOs learn good facilitation skills they can avoid the pitfalls of direct provision which include unsustainable results and market distortions.
AFE is currently developing new tools and training curriculum for 'Working with Lead Firms' that focus on how projects can collaborate with firms that have commercial relationships with large numbers of MSMEs and facilitate improved and expanded relationships among the market actors in order to generate commercially viable and sustainable results.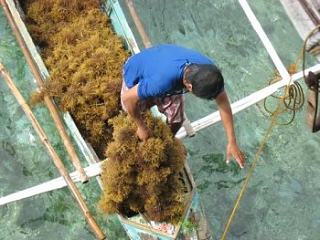 VALUE CHAIN AND MARKET DEVELOPMENT TRAINING PROGRAMS
AFE uses its implementation experience to design and conduct cutting edge training programs in private sector development. Over the past 10 years, AFE has conducted over 40 training workshops for over 1,000 participants around the world. Trainings have been conducted in Bangladesh, Senegal, Ghana, Egypt, Vietnam, Kenya, Thailand, Afghanistan, Laos, Serbia, Mongolia, Canada, United States, United Kingdom, and Germany. Participants come from consulting firms, NGOs, donors, and development projects.
CAPACITY BUILDING OF LOCAL DEVELOPMENT ORGANIZATIONS
AFE uses its extensive experience to build the capacity of local development organizations (DOs) to design and implement private sector development programs that result in increased competitiveness and sustainable impact for targeted MSMEs. This is done through training, mentoring, and lateral learning. In Zambia, AFE established and is facilitating a Private Sector Development Network composed of local DOs involved in enterprise development programs. The objective is to build the capacity of Network members through training, guest speaker events, working groups focusing on topics of interest, and other lateral learning activities.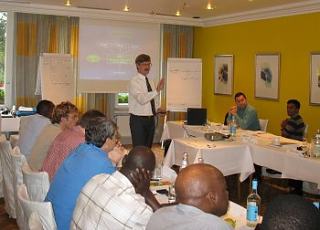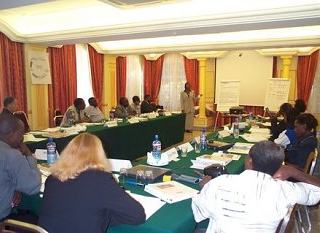 QUICK RESPONSE TO PROGRAM DESIGN AND EVALUATION REQUESTS
AFE has a multidisciplinary staff that is able to quickly respond to training, program design, and evaluation requests. AFE has carried out private sector program design and evaluation activities in over 25 industries/value chains in more than 20 countries. These industries cover agribusiness, manufacturing, tourism, construction, dairy, and health care. Program design exercises typically involve careful planning with the donor organization, training local team members, selecting high potential value chains, conducting extensive market and industry analysis, and identifying market-based solutions that will result in increased competitiveness and sustainable impact for the target group.