Working with VC Lead Firms
Collaboration with Value Chain Lead Firms - AFE utilizes a variety of tools to identify and structure collaboration with Lead Firms (also referred to as "Inclusive Businesses"). These tools are shown in the following diagram.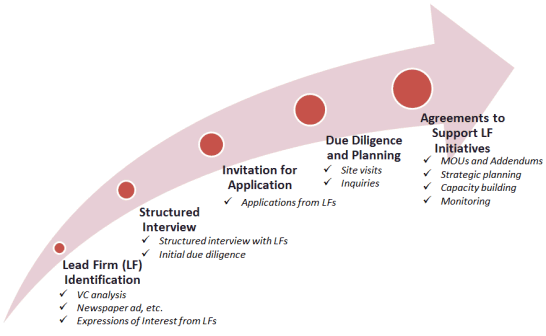 Initial Identification of Lead Firms and Structured Interviews - AFE programs use a variety of tools to identify Lead Firms such as value chain analysis and invitations (through newspaper ads and other means) for businesses to send expressions of interest. Structured interviews are then conducted.
Click here for:
Invitation for Applications - Interested companies are asked to complete an application referred to as an Invitation for Applications (IFA). The IFA invites potential Lead Firms to propose their initiatives to build competitiveness, upgrade their operations, and support the MSMEs that they transact with in their supply chain or distribution channels.
Click here for:
Due Diligence and Planning - At this stage the program conducts inquiries and site visits to assess the reputation of the Lead Firms and their proposed initiatives.
Agreements to Support Initiatives - AFE then develops agreements with the Lead Firms that describe the technical and financial support that the program will provide to support them with their proposed initiatives.
AFE programs support a broad range of initiatives that are proposed by Lead Firms / Inclusive Businesses. Illustrative examples include:
Access to Markets - participate in trade shows or exhibitions, visit potential buyers, receive visits from potential buyers, gain certifications (organic, ISO, HACCP, GlobalGap, etc.), develop websites, conduct market assessments.
Sale of Products or Services to Micro, Small and Medium Enterprises (MSMEs) - develop demand for MSME products or services, conduct market research, adapt products to specific needs of targeted MSMEs, develop / improve distribution networks.
Procurement from MSMEs - develop outgrowing operations, build capacity of MSME suppliers through training, technical assistance, demonstrations, and field days.
Access to Finance - create linkages with financial institutions, work with financial institutions to adapt their lending products, business plan development, development of tripartite arrangements between Inclusive Businesses, banks and MSME producers they source from.
Technology/Product Development - access technical specialists, conduct learning/exposure visits to identify best practices and suppliers of needed equipment and inputs, develop improved IT skills, optimize product development processes.
Management and Organization - develop improved management information systems, business plans, quality control programs, and traceability systems. Build capacity of staff.
Resolution of Policy and Regulatory Issues - establish or revise industry standards, create or strengthen coalitions or associations to lobby for specific changes in policy or regulation.
Click here for:
Facilitation of Inclusive Business Initiatives
The role of Development Organizations when collaborating with Lead Firms (LFs) is to facilitate activities that will contribute to greater LF competitiveness and greater LF capacity to provide needed products, services and market access to targeted MSMEs. Successful facilitation is exemplified by the circle in the diagram below - where there are sustainable and mutually beneficial market relationships taking place between LFs and MSMEs.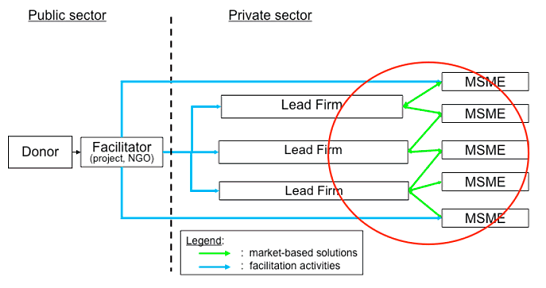 There are variety of tools and guidelines that can assist DOs to be successful facilitators. These include:
» For additional publications on working with Lead Firms, please